PMac, Live… A Dream Come True
Backstory on Why Paul McCartney
The Beatles are my favourite band. Their music, their movies, their stories, interviews, and books have given me so much joy and entertainment. I've learned life lessons from them and they are easily my biggest musical inspiration as a musician, songwriter and band member.
Around 2005, I had been playing music for 2 years with Winston Brigby, my first band, and was starting to get the concert bug. I had been to a handful of arena concerts and many more club shows in the Ottawa music scene and was learning how much I loved live music.
Spring 2005, it dawned on me that I could go and see bands out of town, too. I'm not sure if the Weezer/Pixies show trip was planned by then, but it could have been. Maybe that was the inspiration to start browsing concert listings in Toronto because I found the dream of all dreams: Paul McCartney was coming in October.
First Attempt at PMac Tickets
Tickets went on sale in April and it was my first go at buying tickets online. I had it in my mind to surprise my Dad and that we'd go together. The tickets were very expensive, especially for a uni student with little income, and my excitement and momentum began to fade.
Still, I pressed on with the search and even got as far as two tickets, first level, in my Ticketmaster cart. I watched the seconds tick as I hemmed and hawed over making a final decision. The financial investment was too much, I decided, and I wasn't even sure it would work out to go because of school and my Dad's work schedule. So, I cancelled, tossing the tickets back in the water like two small bass that weren't worth the trouble to catch.
In the meantime, I enjoyed my two PMac concert DVDs and dreamed of a time in the future when I'd be able to go. I had no idea when but I knew I couldn't pass up the opportunity again.
Do you want to go see Paul McCartney in Montreal with me?
Winter 2010. Michaela and I were dating and a big part of our relationship was playing, listening to and talking about music. She and her family had gone to see Bon Jovi a few times out of town and had an awesome time. When I found out that PMac would be coming to Montreal that summer, my dream came alive and I shared with Michaela that I'd like to take her.
She discussed it with her parents and through the bonus of her mom's AmEx card, we got on the presale and scored tickets! As an additional note, her family would also be going and we'd make it a road trip.
Fine by me! We're going to the home of Les Canadiens (my favourite team) AND seeing my favourite Beatle live! Dream come true.
I made a special Wings & solo McCartney mix for the drive (someone's knocking on the door, somebody's ringing a bell, right, Sierra?). We ate freakin' Bar-B-Barn, the best ribs ever, downtown before the show. Michaela and I had 100 level seats, southwest of the stage and fairly far back, but good sightlines. I brought an engage…just kidding. We weren't quite there yet, but I did bring my camcorder (thanks Sis!) and managed to take a few grainy photos and clips of the concert, without any attention from the security guards.
Foreshadowing the Future
PMac in Montreal was the first show I cried at. I had to sit down in my seat and blubber away, as Michaela consoled me, listening to "My Love". That song would go on to be our first dance at our wedding, and the reason for that can easily be traced back to this moment.
The culmination of seeing my dream concert with this very special girl was a sign of things to come. I still get teary-eyed listening to the song because of its connection to Michaela and I, and our relationship. And she's still with me, putting up with my silliness and sappiness 10 years later.
McCartney: The Living Legend
For 3 hours, Paul and his amazing live band rocked out. Beatles, Wings, McCartney's solo stuff, some acoustic and mellow moments, plenty of electric full band tunes and Paul being his charming, witty self between a few of the songs. He even played a few songs from his side project, The Fireman. Live and Let Die: the pyrotechnics for that song were exhilarating. I'll have to find that clip and watch it later. Hey Jude, my favourite Beatles song, was a wonderful crowd sing-a-long experience.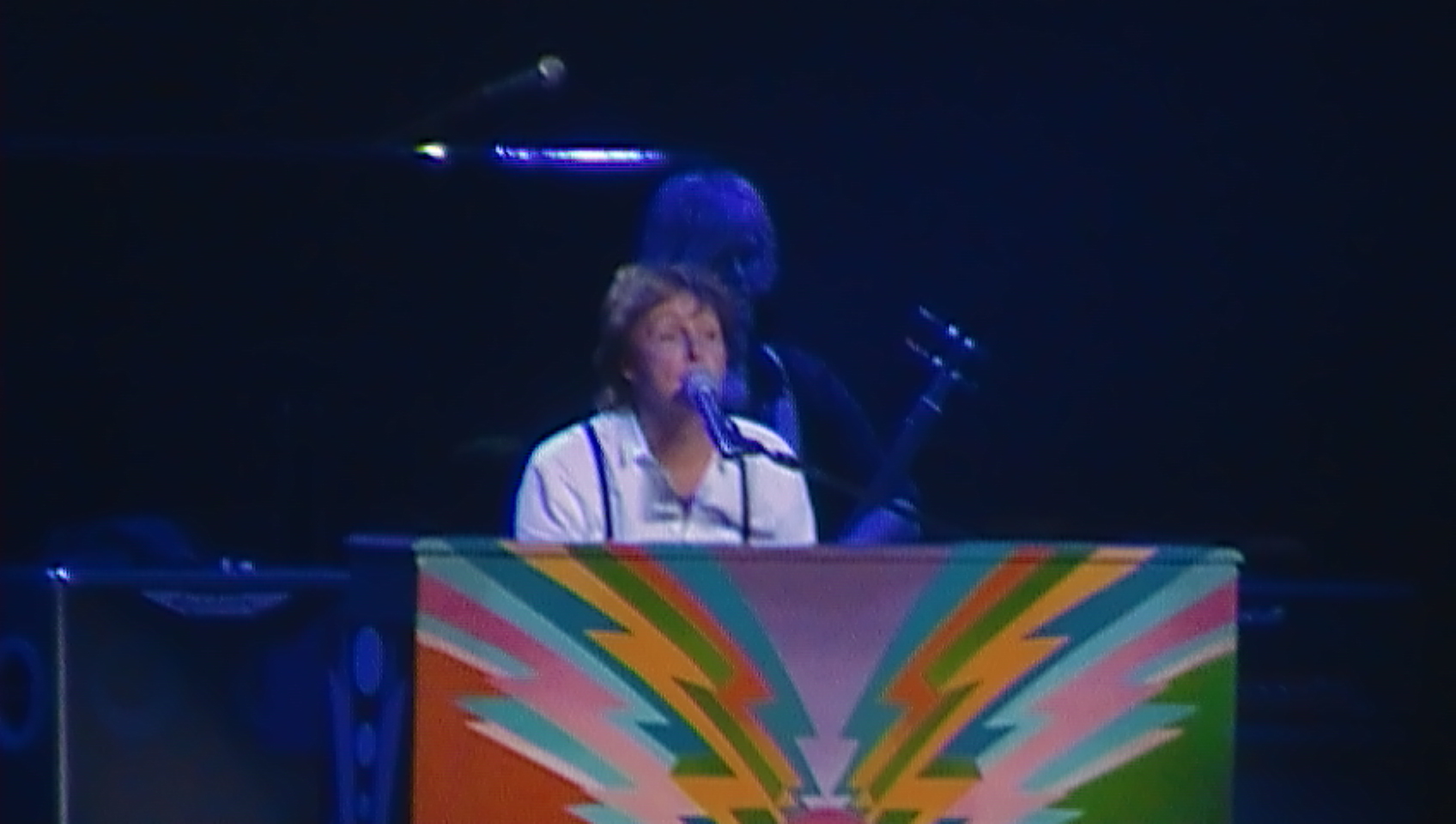 To date, I have never been to another concert where there were 2 3-song encores and each song managed to trump the last. I mean, he'd been playing for 2 hours and 40 minutes when he and the band broke out HELTER SKELTER! Out of nowhere, they just ripped into it and unleashed a fury of sound on a sold-out crowd. And they weren't done. They still made time for Sgt Pepper and The End after that.
Dream come true.
As long as your favourite musician or singer or band is still alive, find a way to make it happen, folks. PMac was a once in a lifetime experience and I'm so glad my wife and I went.