Healthy in Paranoid Times Canadian Tour Closer
OLP
When I started getting into rock and alternative music in Grade 7/8, the first modern band I gravitated towards was Our Lady Peace. Their Clumsy record was released in 97 and was all over MuchMusic. Superman's Dead, Clumsy and Automatic Flowers were all songs that caught my attention, especially Automatic Flowers with Raine's vocals, including the vocal hook to start the song, Jeremy's awesome drumming and a really interesting lyric narrative.
In Grade 8, we had to design our own CD cover in French class, and I chose Clumsy. Still had it a few years ago, too. It wasn't an easy one to draw, since it featured a trapeze artist on the front cover. People are hard to draw well!
Each subsequent album release brought me deeper into my fandom for the band, as they released songs like "One Man Army", "Is Anybody Home", " In Repair" and "Life". If someone had asked me who my favourite band was in high school, before my final year, I likely would have said OLP. And, even today, they're in my top 5.
OLP Live
In 2003, they released a live album from their Canadian Tour supporting Gravity, which was a major release for them to that point. Probably their most commercially pleasing radio rock album, thanks to the success of "Somewhere Out There" and "Innocent".
I listened to this album a ton that summer as my family made road trips to Manitoulin Island and then to Montreal and Quebec City. That album grew my fandom further, knowing they'd be a great band to see live.
Spring 2006
Living at home, during university, was a real blessing. I had the benefit of staying in my neighbourhood, with the family and friends who were still in town, and I saved (and spent) much more money than I would have if I had left. As long as I was in school, I didn't have to pay rent, and so once I got the concert bug in 05, the news of OLP coming to Ottawa in May 2006 prompted me to action!
I bought two tickets, asked my good friend Marisa (also a big OLP fan) if she wanted to go, and that night in May was our first time seeing the band in concert.
Worst Night Ever
This night would be given the silly moniker of "worst night ever" on account of an unfortunate incident that happened during the show.
I bought a concert tour t-shirt, noting the dates of the tour, for posterity. Rookie mistake, though, was not putting it on and not keeping a careful eye on my purchase.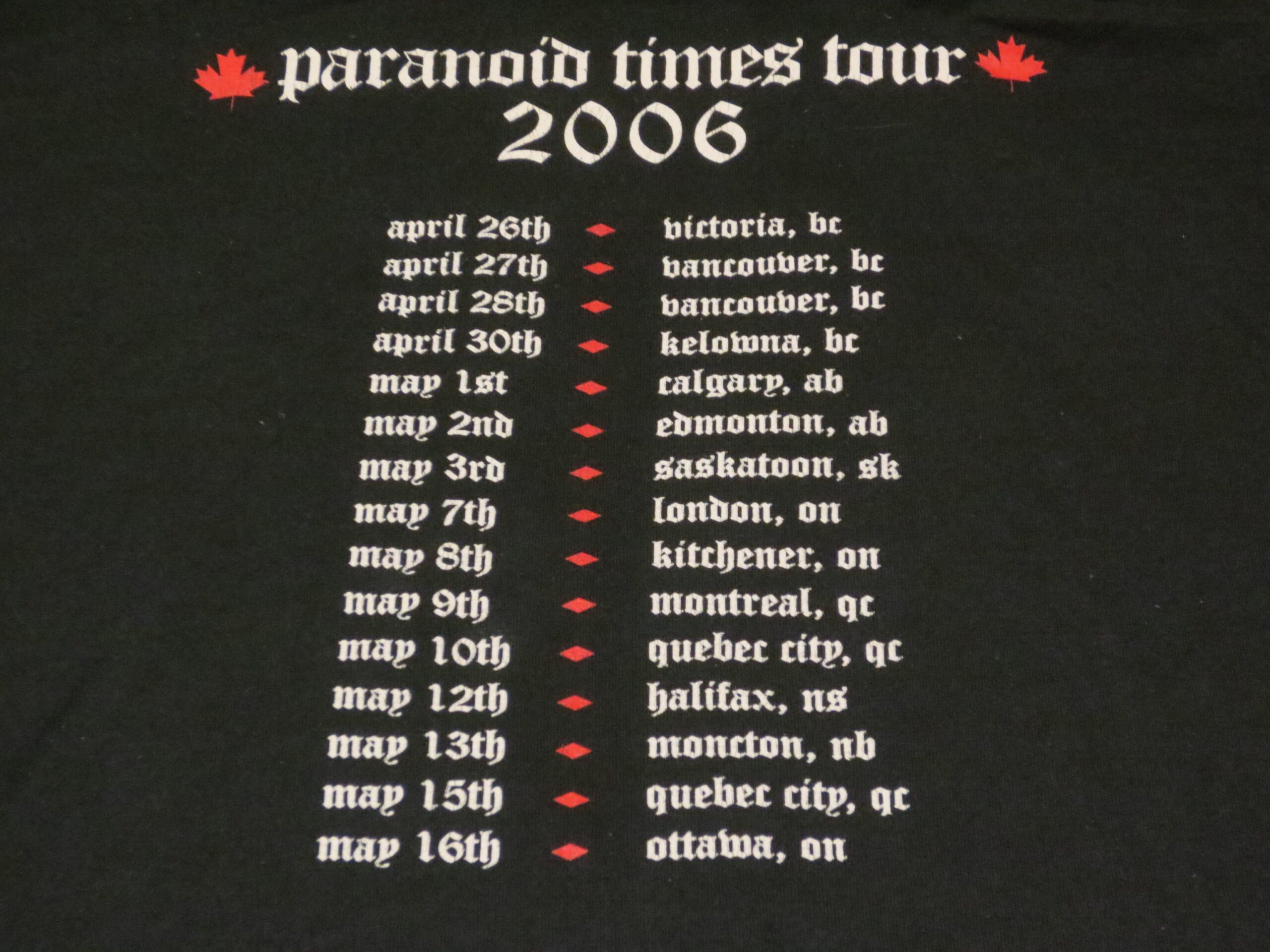 By the end of the show, I believe OLP had rocked my mind and body to the point of forgetting about the t-shirt. So, Marisa and I were walking towards the parking lot by the time I realized I had forgotten the t-shirt.
I pleaded with the security guard to let me back into the 100 level section, where we sat, backtracked to our seats, and the t-shirt was gone. Of course it was gone. And I wasn't willing to go home without a proper memento of the evening, so that night, I spent $60 total to bring one OLP t-shirt home. And that was the "worst night ever".
But Not Really…
The night was great and OLP was in fine form. I recall some end of tour shenanigans with members of the opening band, including one in a rabbit mascot suit, joining OLP for their Starseed encore. I remember Raine wandering into the crowd and walking his way through thousands of fans in the lower bowl during one of the songs, too.
Upon refreshing my memory with the setlist that night, I must have been thrilled with the spread of songs from their 6 albums at that point. They played a lot of my favourites (One Man Army, Clumsy, 4AM, Somewhere Out There) and did a few cool medleys too. Good times!
More to share on OLP later in the series.