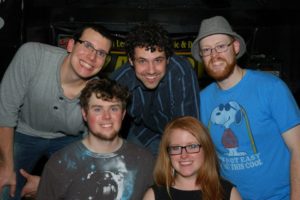 For the first time since 2011, the original, five-piece band is joining back together for a fundraiser gig. Paul, Kaitlin, Thom, Tyson and Joe will be gracing the stage of Greenfields Gastro Public House in Barrhaven, on Friday, May 18th.
More details are forthcoming, but we've already been busy practicing this past month. We'll be sharing a brand new set of cover songs, along with a few of the See Joe Smile standards you've enjoyed in the past.
Keep a closer eye to the website here, as well as our social media platforms (Facebook, Instagram & Twitter) for updates on this gig and sneak peeks of the songs we're preparing.